Update:
Dr. Chakraborty was elected to the Oak Park Library Board of Trustees in April 2021 and was seated in June 2021. Her current term is until 2025. Learn more here.
Madhurima Chakraborty for Oak Park Library Board of Trustees
An Equity-Focused Vision for the Oak Park Public Library System
The fundamental thing that I believe about working to make communities more equitable is that we need to do the work not out of a sense of charity, but because disenfranchisement, impoverishment, and racism are daily and hefty processes with the weight of institutions behind them. We need to mount equally significant counterprocesses to begin undoing their damage.
I want to be part of the work of having the library be an antiracist, equity-focused, and inclusive space. Here are three initiatives to work toward that goal:
Expand access to technology: increase access to free high-speed internet and devices by building on current practices during COVID such as extending the rental period for devices
Develop digital literacy: I believe that libraries are crucial places where we can potentially help people discern the difference between data and analysis, or opinion and fact, between information and misinformation.
Initiate inclusive access to a social justice curriculum: multi day- or week-long summer courses that would provide free college-level curriculum to local teens.
Working for Equity in a Bureaucracy
I am an Associate Professor in the English and Creative Writing department at Columbia College Chicago. Last year, when the pandemic hit and our college, like others, was faced with unprecedented changes, I ran for and won seats on the faculty senate and then its Executive committee. I understood that the coming months would be especially trying times for educators, and I wanted to make sure that the faculty had as strong an advocate for them as possible during these times. It is this belief in advocacy, especially for those who don't have a seat at the table, that I hope to bring to the Oak Park Public Library Board.
My ten plus years in academia means I have significant experience working in a large, cumbersome institution that is trying to do good work while at the same time being tied to complex bureaucratic processes. I have learned to work for equity, for antiracism, and overall for healthy institutional practices from all perspectives (not just majoritarian) through a process I call pushing out—getting involved in the structures of an institution in order to reimagine what is possible within it.
Endorsements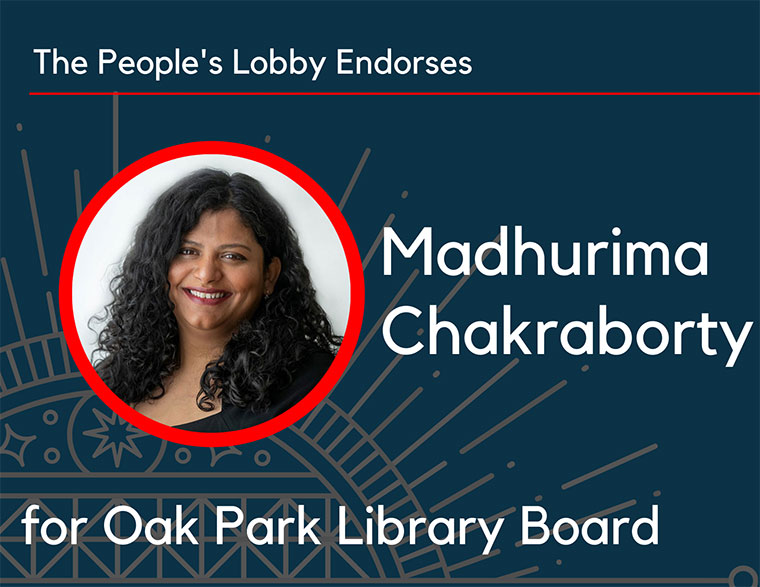 Links to more information
You can see my answers to policy and other questions as part of the Oak Park Activist Toolkit Voter Guide.